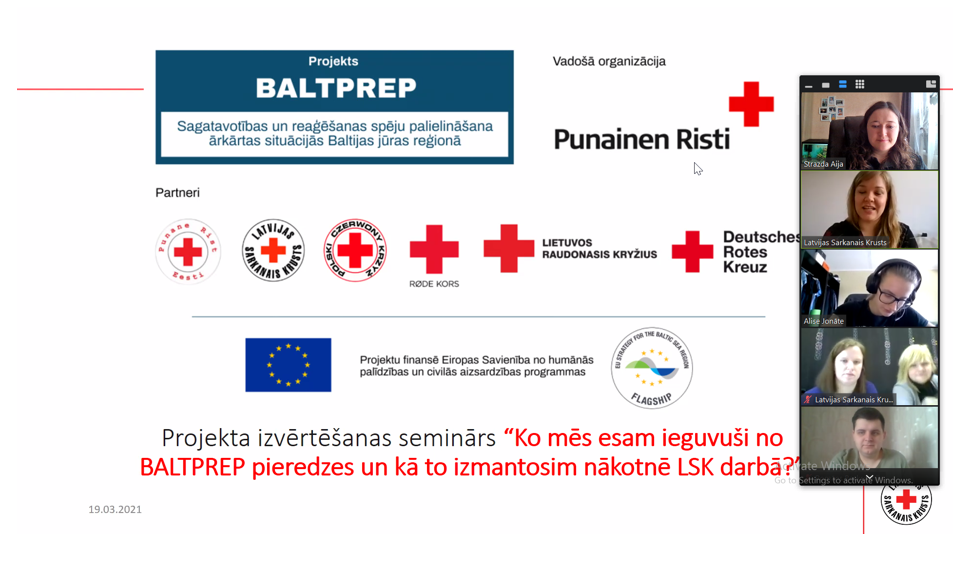 On March 19, an online evaluation meeting of the international project "BALTPREP – enhancing regional preparedness and response capacity for major accidents in the Baltic Sea region" took place, which was attended by the project management group from the Latvian Red Cross (LatRC), as well as its staff and volunteers who participated in international trainings on emergency response and psychosocial support that were held in 2019 and 2020.
The participants were introduced to Guidelines of Disaster Management and Psychosocial Support trainings. They also reviewed other activities implemented and the results achieved during the project.
The participants shared their experience of gaining new knowledge within international trainings. In 2019, they took place in Finland and in 2020, due to Covid-19 travel restrictions, they were organized online. During the meeting, these trainings were evaluated – the methods used, the theoretical basis provided, practical tasks, advantages and disadvantages of face-to-face and online learning experiences.
As a result of the exchange of opinions and experience, recommendations for further development of the LatRC in the field of emergencies were developed. During the discussions, the inclusion of psychosocial support in the LatRC First Aid and Emergency Program also received a positive support. The topics of psychosocial support and psychological first aid were assessed as valuable in order to include them as one of the main topics in the development and implementation of local and international LatRC projects in the future. The developed recommendations were based on objective findings and practical experience gained during the project, and on evaluation of challanges and ideas that can be successfully integrated into the activities of the LatRC.
The LatR has been implementing activities within the project "BALTPREP" for two years, while actively cooperating with the Red Cross national societies in Baltic Sea region – Finland, Estonia, Lithuania, Poland, Germany and Denmark. Representatives of the national societies of Russia and Sweden participated in the project as observers.