Contact information
Contact person
Phone.: +371 67686312
E-mail: solvita.bespalova@redcross.lv
Ms Solvita Bespalova
Head of International and Public Relations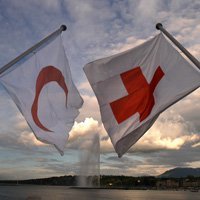 The Latvian Red Cross (hereinafter – LatRC) is a member of the International Federation of Red Cross and Red Crescent National Societies (hereinafter – IFRC). Its mission is to protect and improve the living conditions of vulnerable people, whose lives, social and economic security is affected by different armed conflicts, socioeconomic crisis etc. The IFRC coordinates and directs international assistance to victims of natural and man-made disasters, refugees, and people suffering from illnesses and epidemics. The mission of the IFRC is to organize relief efforts, work on capacity building for National Societies, and provide support, through National Societies, to people in need. The extensive network of the International Red Cross and Red Crescent Movement makes it possible to deliver help and assistance to every place, society, person. In total, 191 national societies are members of the IFRC, including the LatRC.
Being part of the Red Cross and Red Crescent movement, LatRC has set international cooperation as one of its most important strategic goals – to be a partner and to participate in the activities of the RCRC movement. LatRC actively cooperates with Norwegian, Austrian, German, Swedish, Finnish, Belorussian, Estonian and other national societies of Red Cross movement. In 2014, cooperation agreements were signed to continue cooperation with German RC and Norwegian RC, as well as agreements to start cooperation with Italian RC and several Norwegian RC committees. 
At the national and international level, LatRC has been involved in international events and activities of various scale, including conferences, exchanges of experience, as well as gathering and sending information about the current situation in Latvia and activities in LatRC programs.