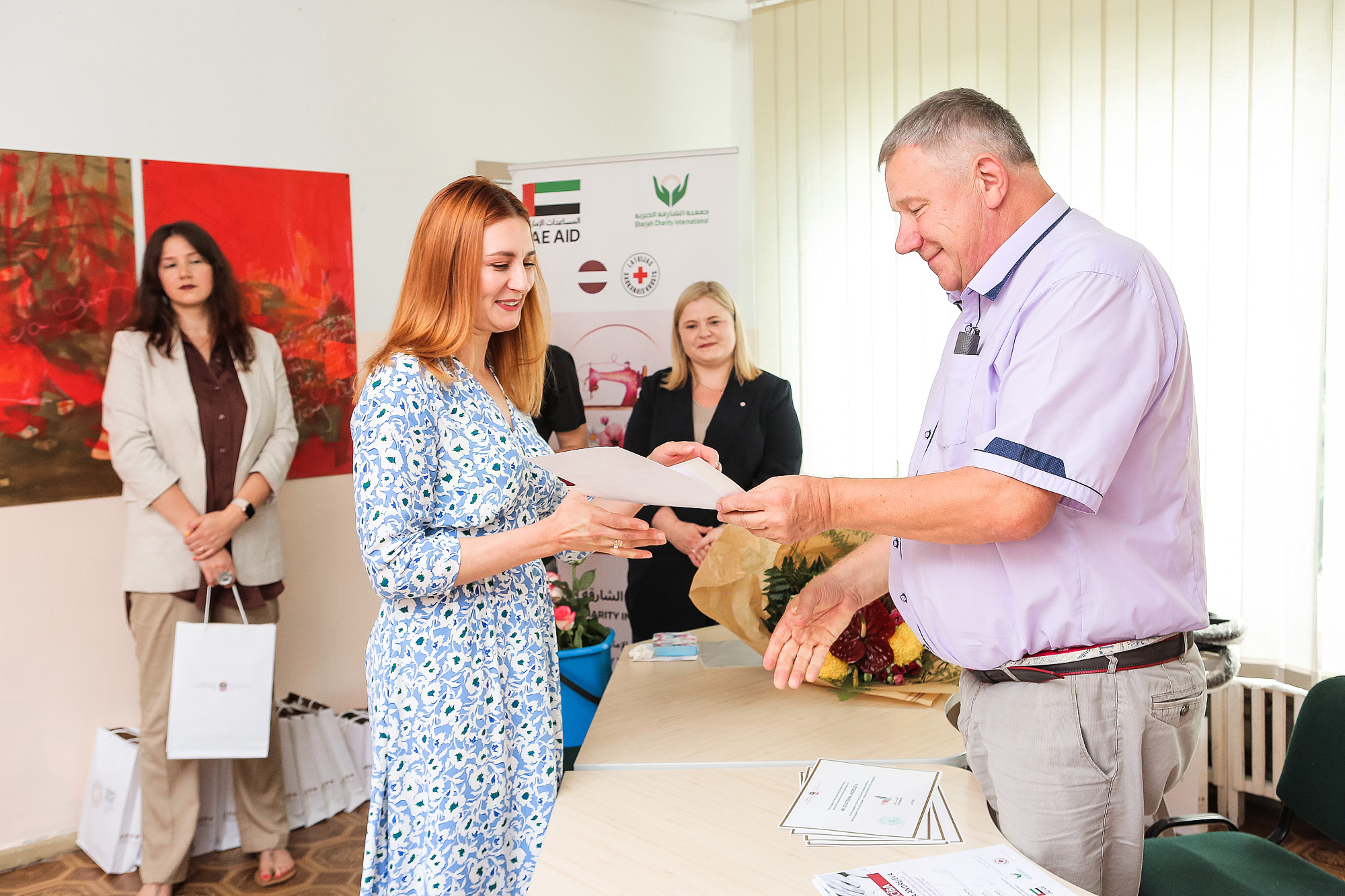 The "Women Empowerment Project – Republic of Latvia" has ended. It was implemented in Daugavpils, Latvia by the Latvian Red Cross with the support of the Embassy of the United Arab Emirates, financed by the Sharjah Charity Organization.
The main goal of the project was to organize a sewing training workshop for low-income women or women living in poverty who want to acquire sewing skills and provide income for themselves and their families. Project was implemented from 16 May to 30 June, 2022.
Results: nine women learned sewing for 180 hours.
On July 28, the closing event of the project was held in the premises of the LatRC Daugavpils regional branch. The participants and lecturers of the project were welcomed. Words of gratitude were expressed by Annija Prisjolkova-Bottiglieri, representative of the UAE Embassy, ​​Uldis Likops, LatRC secretary general, Helena Soldotjonoka, LatRC Daugavpils branch chairwoman and Solvita Bespalova, project coordinator.
Klaudija Litvinovica, the director of the "Klar" sewing factory, also visited the event, who inspired women to continue working in the sewing industry, because, as she admitted, Daugavpils is missing people skilled in this profession.
Also, Natalja Kozanova, chairwoman of the Social Issues Committee in Daugavpils municipality, welcomed all those involved in the project.
During the event, everyone had the opportunity to view the work of the project participants – sets of children's clothing, soft toys, aprons, hats, bags etc.
"The Embassy has always tried to support those people in Latvia who need it the most and makes it a point to bring the support outside Riga covering as many regions as possible. Thanks to Sharjah Charity International we were able to bring this project to Daugavpils and we are very happy with the outcomes. We also thank the Latvian Red Cross for their active involvement in the Sewing Project and all the ladies who showed interest in learning new skills. We wish best of luck to all the women in their future endeavors." Annija Prisjolkova Bottiglieri, a representative of the UAE Embassy
"LatRC highly appreciates the recently started, but active and positive cooperation with the UAE embassy! Providing social support to people in need is one of the priorities of LatRC. Therefore, this project is special, not only because the women learned new skills in it, but also because they will be able to use these skills in the future to independently and financially provide for themselves and their families",  Uldis Likops, LatRC secretary general.
Together we can help!