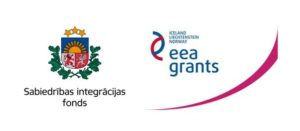 Project closed in 31 January, 2015.
---
Project No. 2012.EEZ/PP/1/MEC/074/038 "Volunteer Social Work as Basis for Improved Quality of Life" is implemented within the framework of the EEA financial mechanism programme "NGO Foundation" sub-programme "NGO Project Programme".
Project implementation period: 1 December 2013 – 31 January 2015
Objective: to improve the quality of life of different age inhabitants subjected to social exclusion risk and implement new forms of social services in Vidzeme region. Implementation of the project will contribute to achieving the goal of the sub-programme "Non-Governmental Organisation Project Programme" – to facilitate welfare and to strengthen democratic values and human rights in Latvia because:
Availability of new and innovative social services will be provided to persons subjected to social exclusion risk, including children, youngsters, people with disability and seniors;
The experience of the Norwegian Red Cross will be considered in development of social volunteer work;
The involvement of children and youngsters, including those subjected to social exclusion risk, in the civil society and volunteer work;
Social centres will be established to improve the welfare and availability of services for children, youngsters, and seniors.
Project target audience: children, youngsters, new parents, seniors, persons with low income, ethnic minorities, non-citizens.
Project implementation place: Valka Region and Cēsis Region
Project partners: Norwegian Red Cross, Valka City Council, Cēsis Region Municipality
Project results:
To provide the availability of social services (for example, psychologist, speech therapist, ergo therapist, physiotherapist and other specialist consultations) as close to the place of residence as possible to persons who had limited opportunities to use those;
To provide obtaining new knowledge and skills to all target groups, thereby reducing their social exclusion and improving their quality of life;
To facilitate development of youth volunteer work to improve the situation for the recipients (seniors and people with disability) of services provided by volunteers;
To motivate local community to get involved in LatRC or other NGO and other non-formal groups to improve their quality of life and solve social problems.
The project will contribute to achievement of the investment programme "NGO Foundation" goal: to strengthen the development of civil society and social justice, democracy and sustainable development, as during the project measures will be implemented that will:
Reduce social exclusion of those target groups that, based on statistic and research data are subjected to social exclusion risk, i.e., children, youngsters and seniors;
Facilitate involvement of children, youngsters, and seniors in different measures, facilitating their involvement in the local community life and involvement as members or volunteers of LatRC;
Provide new knowledge and skills for all target groups.
All planned project activities have been implemented. Project results:
Selected and involved all planned target group: 457 children and youngsters, 257 seniors, 32 persons with disability. Two opening events organised, 1 in Cēsis Region, 1 in Valka Region where 226 participants took part;
Two social centres were established that were equipped with regular provision and availability of services. The availability of doctor, diet nurse, psychologist and speech therapist has been provided in every region;
Regularly coordinated youngster volunteer social work in every region. All in all 82 youngsters were involved;
Norwegian partners gave lectures and consultations;
Civil involvement, participation in democratic and civic society: 34 children and youngsters;
Improvement of self-confidence: 50 youngsters;
Healthy lifestyle: 123 children and youngsters;
Non-traditional agriculture forms to diversify income sources: 19 children and youngsters;
Practical skills: 64 participants. In all events, 457 children and youngsters participated actively. Training courses were attended by:
All events were attended by 257 seniors. Project activities were attended by:
Club of book friends: 47 seniors;
Healthy lifestyle for seniors: 58 seniors;
Exercising club: 142 seniors;
Gardening: 70 seniors;
Non-traditional agriculture forms to diversify income sources: 35 seniors.
Five events were organised that involved all generations:
Two opening events: 226 participants;
Two clean-ups: 135 participants;
The day of dahlias: 102 participants.
Events organised for sharing experience with the Norwegian partners. Two groups of youngsters and volunteer social workers were established. All in all 82 youngsters were involved.
Availability of services was ensured to 72 seniors and persons with disability. Regular customer satisfaction assessment was performed. Consulting support to volunteer youngsters who performed social work: 224 consultation (individual and group) in both regions. Eight supervisions were performed in both regions. Events organised for sharing experience with the Norwegian partners.
Agreements concluded with city councils or LatRC committees on the use of premises for the needs of local youngster groups. In each region, a local coordinator was trained.
11 press releases, 12 articles for regional newspapers were submitted, and information was regularly provided to LatRC, Valka Region and Cēsis Region websites, two opening events were organised.
Thanks to cooperation with municipalities, the project sustainability was ensured.
Action programme financing: Total eligible costs of the project are 51,074.27 EUR. Project is supported financially by Iceland, Lichtenstein and Norway. www.redcross.lv / www.eagrants.org / www.norwaygrants.org