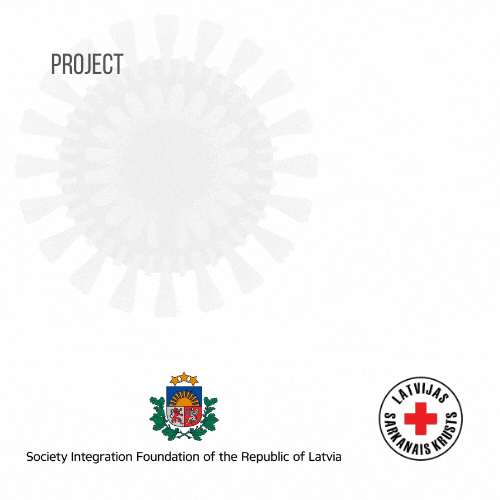 With the decision of the Society Integration Foundation of Latvia, the Latvian Red Cross (LatRC) is implementing a project "Get vaccinated: stay safe" (No. 2021.LV/NVO_VAK/2). The project is financed from a program "Support for NGOs in informing the society about the vaccination against COVID-19".
"We are aware that there are people, who are willing to get vaccinated. But at some point, they struggle to get to the vaccination center or they are not convinced by the publicly available information to do so. With the help of NGOs, we are planning to carry out targeted and personalized communication on COVID-19 vaccination, with a focus on different groups of our society and their individual needs by informing them, answering to their questions, helping them to make a registration to get the vaccine and to provide them with an opportunity to get to the vaccination center. The involvement of civic society is essential, only together we can limit the spread of the COVID-19," explains Zaiga Puce, the director of Society Integration Foundation.
Source in Latvian: lvportals.lv article "Apstiprināti 11 NVO projekti sabiedrības informēšanai par vakcināciju pret Covid-19".
Project implementation period: 1 October – 31 December, 2021
The project goal is to raise awareness of the importance of being vaccinated against COVID-19 and to encourage people to get vaccinated in all regions of Latvia.  
Project activities:
Public information activities in LatRC Health centers, humanitarian aid points, FEAD food and hygiene packages` distribution points in Vidzeme, Latgale, Kurzeme and Riga regions.
Informative event/ training for LatRC staff;
Informative activities for beneficiaries of LatRC social support services;
Educational and informative events in Latvian and in Russian about life during COVID-19 pandemics, including distribution of information about the vaccines and process of vaccination;
Provision of services of specialized transportation or assistant for people with physical disabilities;
Informative public relations campaign, promotion of the project.
Expected results:
At least 2100 people informed individually or in groups, in most cases beneficiaries of LatRC social support and care services – persons, who are at risk of social exclusion and discrimination because of their different life circumstances. 
It is planned to organize a public relations campaign – preparation of 10 visuals/ informative materials about the vaccination. The aim of this campaign is to raise awareness and to prevent the disinformation regarding such topics as vaccination against COVID-19, coronavirus itself and the importance of safety measures. The materials will be published not only in LatCR communication channels (webpage, Facebook pages) but they will also be printed out in order to hand them out in LatRC regional branches, municipalities, schools, other NGOs. Taking into account the number of daily visitors of the webpage redcross.lv and LatRC and LatRC Youth facebook.com pages, it is predicted that at least 5000 people will be informed about the topics mentioned above.
Project Manager: Aija Strazda, phone: + 371 67336653, e – mail: aija.strazda@redcross.lv.
The project is financed by the Society Integration Foundation from Latvia`s state budget.