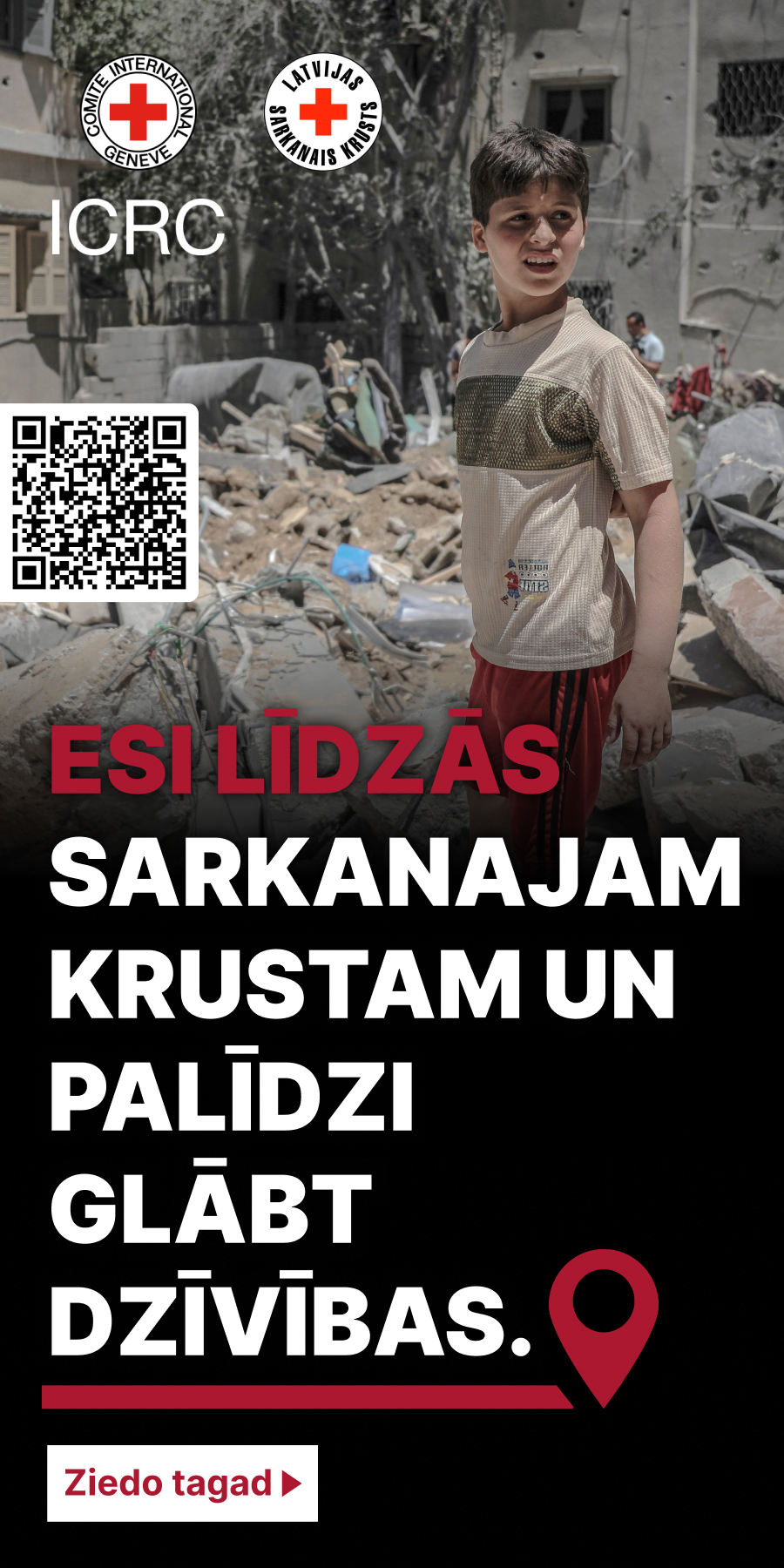 The Latvian Red Cross and the International Committee of the Red Cross (ICRC) launched a new campaign asking people to "Be There" for children in conflict zones around the world who need health care.
The ICRC and its Red Cross and Red Crescent partners estimate that one in 10 children worldwide is affected by armed conflict. They are often forced to flee their homes, separated from their families, and can suffer life-altering injuries.
"Funds from this new campaign will help us ease suffering by providing essential health care services for children in need," Concretely these funds will go to emergency first aid and transport, hospital care including war surgery and physical rehabilitation, primary health care, maternity services as well as trauma counseling for those exposed to fighting."
To highlight the lifesaving work the Red Cross does, the campaign shows examples of powerful stories of children from conflict zones around the world, including Ukraine, Yemen, and Nigeria:  
Kira spent three weeks living in her basement with her family to escape the fighting in Ukraine. Alongside food, shelter, water, and medical care, the Red Cross provided Kira and her family with trauma counseling to help them recover. "We provide psychological support because we remember that not all scars are visible," said Banu, a Red Cross health delegate working in Ukraine. 
Five-year-old Aisha had recently moved to a new home with her family. Her mother, Khadija, was breastfeeding when she heard an explosion coming from the kitchen. She rushed in to find Aisha, alive, but badly injured from an explosive device that had been hidden in their kitchen. With injuries to her eyes and shrapnel in her body, Aisha was rushed to the Maiduguri State Specialist Hospital, where Red Cross volunteers provided critical surgical support. Infections from shrapnel can easily become infected, and, without surgery, Aisha could easily have lost her eyesight, or even died. Aisha's nurse highlighted: "Women and children are so vulnerable in conflict zones."
Alaa was only four years old when she lost her leg to shrapnel from a rocket, in Yemen. The Red Cross was able to fit her with a new leg and give her physiotherapy at the Red Cross-supported Physical Rehabilitation Facility in Taiz. Tahini, Alaa's physiotherapist said: "Because of the war, we see many cases, most of which are children with amputated limbs."
The stories of Alaa, Aisha, and Kira showcase what the Red Cross and Red Crescent Movement are doing to help children that are caught up in war and violence. Each story stands for the countless children that benefit from essential healthcare services in conflict zones provided by (Name of the RC), the ICRC, and its partners. You can support the campaign by donating with the call to a donation number or bank transfer.
You can make a donation to the LatRC:
Recipient: Biedrība "Latvijas Sarkanais Krusts"
Address: Sarlotes Street 1D, Riga, LV-1001, Latvia
Registration Nr.: 40008002279
Bank: A/S Swedbank
SWIFT code: HABALV22
Account No: LV28HABA0140J04577004
Information on the transfer: ESI LIDZAS
by calling to a donation number 90006880 (1 call costs EUR 1.42).