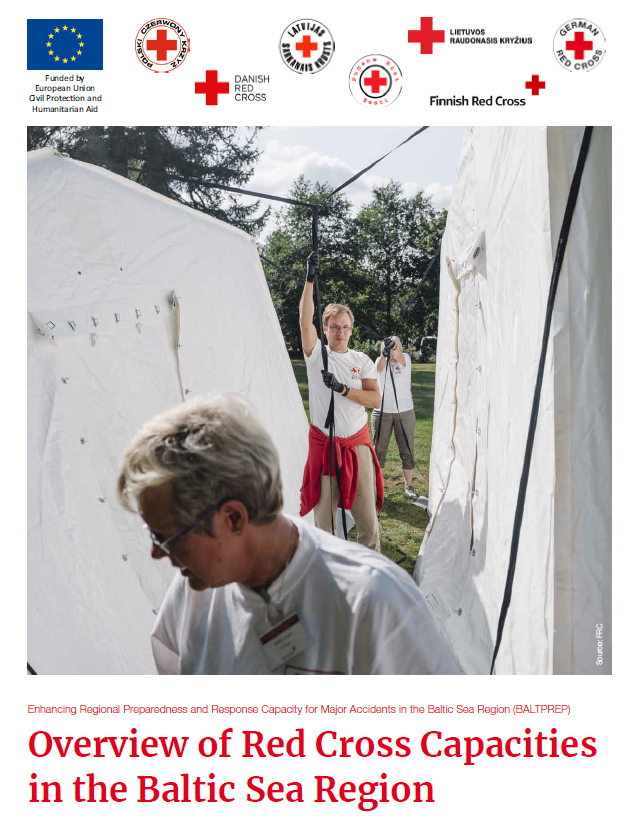 German Red Cross, in collaboration with Project partners, has issued an Overview of Red Cross Capacities in the Baltic Sea Region within the international project "BALTPREP – enhancing regional preparedness and response capacity for major accidents in the Baltic Sea region".
This document provides an overview of the capacities of the Red Cross National Societies of the Baltic Sea Region as they currently are. It is hoped that the document will provide an introduction to the Red Cross in the Baltic Sea Region and its capacities and form a basis for a conversation between domestic emergency management agencies, civil protection authorities and Red Cross National Societies as auxiliaries to their governments. All capacities and activities of Red Cross National Societies are summarized tables, to provide a quick overview. Countries are compared based on their resources and activities.
Furthermore, the document includes the description of different profiles about each project "BALTPREP" partner (Finnish, Danish, Estonian, Latvian, Lithuanian, Polish and German RC national societies): general overview, data, activities, programs, especially focusing on preparedness and response skills in major accidents and disasters.
Every reader of an overview has the opportunity to read more about the International Red Cross and Red Crescent movement and to get the understanding why the Movement is so unique.
The document also describes the EU Strategy for Baltic Sea Region (EUSBSR). At the beginning of February 2020 "BALTPREP" has been granted flagship status by the EUSBSR). The flagship status demonstrates the importance of the good work the project has been doing in strengthening the regional response capacity and collaboration between the Red Cross and the civil protection authorities in the Baltic Sea region. More information about the status is found here.
Full version of the overview can be found here:
Overview of Red Cross Capacities in the Baltic Sea Region
Detailed information about the project read here
The project is funded by European Union within Civil Protection and Humanitarian Aid program.