We are glad that those working in LatRC and LatRCY are active, selfless, positive, brave, and kind. Each of these people has their own story, experience, and moment when their path started in the Red Cross movement. We appreciate our volunteers being so diverse, with different world views; however, they are united with one idea of providing assistance to less protected groups of people. Thank YOU, volunteers!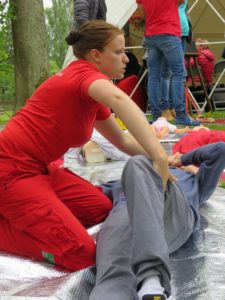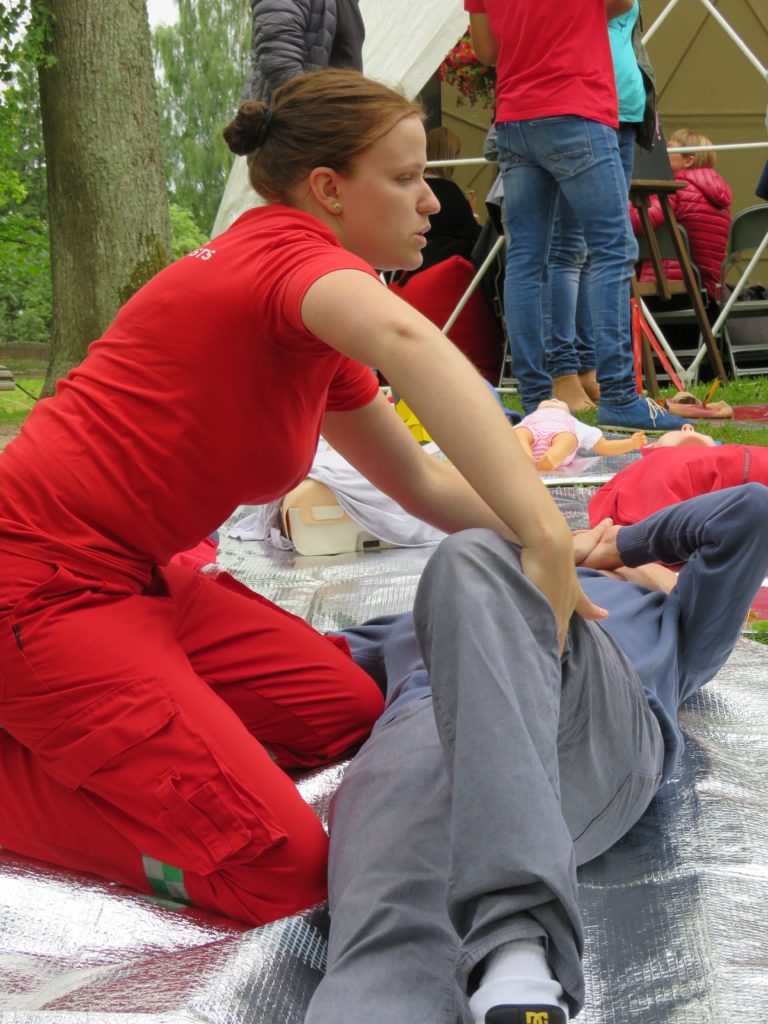 Evita Semule, former LatRCY volunteer, now: LatRC First Aid and Disaster Management coordinator
"My volunteer work in the Latvian Red Cross (LatRC) started already in 2008 when I was only 13 years old – together with my peers, we restored the LatRCY Cēsis department. Since the work of the department had stopped for a few years, we started everything practically from zero – resource and member attraction, event planning and organisation, project writing. For me, this initial stage was associated with complete youth carelessness and maximalism because even without previous experience and knowledge we were not afraid to dream big and realise the dreams. Over the course of a couple of years, in the department we actualised many fantastic events – bike tours, "Rubber Boot Run", HIV/AIDS day lectures, summer camps for children from unfavourable families etc.
Although I actively work in different LatRCY fields of activity, the first aid (FA) programme has always been the closest to my heart. In 2009, I started preparing the LatRCY Cēsis department's FA team, sharing with them previously acquired knowledge. Over time, I started to visit schools, kindergartens and a prison, instructing on how to provide first aid. Our FA team over the years reached increasingly better results and in 2013 participated in a European-level competition in Austria.
Starting studies in Rīga, I stopped actively taking part in LatRCY, but increasingly more often I received invitations to join FA and Disaster Management (DM) programme's organised student competitions or FA-hosted public events, which in 2018 resulted in a job offer to become a FA instructor and a FA and DM event coordinator. Work in the LatRC FA and DM programme to me is very important and dear. Every morning, I go to work with a genuine smile and am pleased to be able to prove myself in a field which I truly admire and find really exciting. I work in a wonderful crew which always supports, encourages, teaches, and builds a genuinely familial sense in daily work. And I can already say that I am simply really lucky with the opportunities given by LatRC, but I would like to believe that these opportunities were provided to me, acknowledging my long-lasting voluntary work in this organisation."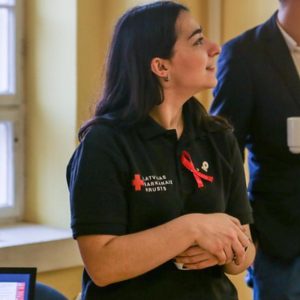 Lusine, LatRCY volunteer
"My name is Lusine, and I am a LatRCY volunteer. I got involved in LatRCY to gain experience and do something more than the daily tasks. Considering my education in the field of health care, currently, I mostly enjoy organising educational events, for example, one of the organised events was dedicated to the World HIV/AIDS Day. During the event, a lecture was given, educational games were played, and the stories of specialists from various fields were heard. Presently, we have numerous ideas which we will realise in the nearest future. I greatly appreciate that within LatRCY we also have foreigners, and we can talk to one another in English, which is fantastic. In the autumn of 2019, I participated in an Erasmus+ project where I acquired a lot of knowledge and met new friends.
The Red Cross is more than an organisation, here I always feel at home. And we really are like one family!"

Vija Nāzere, LatRCY volunteer
"I ended up at the Latvian Red Cross Youth in the autumn of 2017 when my friend invited me to come with her to the Open Door  Day. I immediately admired the kindness, openness, and keenness of the people I met there; thus, I wanted to join the work of the organisation. Even after more than two years of operating there, with new ideas and endeavours, I am most inspired by my team, the youth around me, and the exchange of ideas. And one is considerably satisfied when one witnesses an idea realised in real life, that one is able to help someone and sees a smile on people's faces. The most joy I have is for a completed project "ELP[A]- Elpo, lai priecātos", in which, during the course of several months, we hosted informative practical seminars about the topic of mental health for the youth. Activity in LatRCY has given me great experience in working with people, leading a team, project completion, and many other skills. An unforgettable experience was participation in an international RC camp in Austria with participants from more than 20 countries, who also on a daily basis operate in RC youth. I had a feeling that even with people from the other side of the world, one is part of one big family with common values and one objective – to make the world a little better place."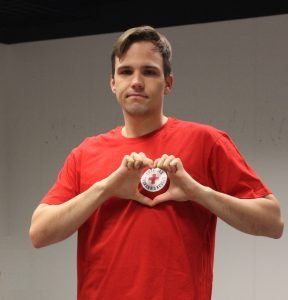 Gustavs Brigmanis, LatRCY volunteer
"I started taking part in the Latvian Red Cross Youth in November 2018 when I visited a LatRC ĪUM (Short-stay Accommodation Centre) "Burtnieks". After the first few visitations, in February 2019, we started a European Union Solidarity Fund project, in which we went to the zoo, Jūrmala, the National Library of Latvia, and the cinema with parents and children. Outside of excursions, we organised Christmas and Valentine's Day events and other activities. Additionally, we held game, handicraft, and cooking workshops, which created a pleasant atmosphere. Now, the project is close to its end, and I have to say that I feel proud of what has been done, even though it was not easy. In short, it is valuable to act and take care of one's own social environment. Currently, the project is coming to an end, without the broad support of the ladies it would have been much more difficult to actualise everything – thank you."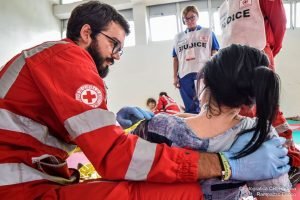 Davide Ceradini, LatRCY volunteer
"Four years ago I started my volunteer path at the Italian Red Cross. When in 2018 I moved to Latvia, I was inspired by the previously gathered experience and soon started looking for opportunities for involvement in a new youth group. In Latvia, I was welcomed by very friendly people. Even at the very beginning I already had a sense of belonging, not as a volunteer, foreigner. I felt like part of a huge family, the members of which can be found all over the world. Getting involved in voluntary work, motivation is effortless to attain, for example, being among young and open people is always a source of inspiration. Being in the LatRC Rīga Centre Committee Youth Department, we realised different exciting activities: teaching first aid, informing the society about various health-related issues, hosting activities for refugee children – their smiles are always the greatest reward for our voluntary work. After all, voluntary work can be excellently characterised by Anne Frank's quote: "No one has ever become poor by giving.""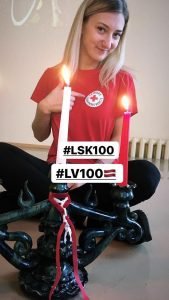 Eva Rubene, LatRC and LatRCY volunteer
"I operate in the Latvian Red Cross Youth voluntarily already since the spring of 2015, when the director of the LatRC Rēzekne Committee Youth Department at the time, who was a geography teacher, addressed me and my classmate to take part in an event as volunteers. One event here, another one there, and that is how voluntary work was and is a way of spending free time. Beneficial. During these years, voluntary work has received a more accountable meaning, because I am the director of the LatRC Latgale Committee Youth Department. One person cannot accomplish much. I have to say a big thank you to the department's volunteers, the team.
Yes, it is true that happiness develops happiness, and the good multiplies the good! And it all can be achieved better if we have one common goal – to do good."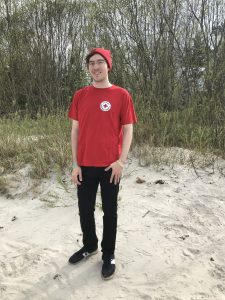 Kārlis Siders, LatRCY volunteer
"I heard about LatRC from my friend who constantly praised it and said how enjoyable and significant it is to work there. Therefore, one summer I decided to join, to try to teach first aid to Ādaži pupils, and it really was a wonderful experience. These pupils with pleasure studied and sought to comprehend everything on how to save other people's lives, and I was truly content to inspire and instruct them. I understood that sharing vitally important information is indeed pleasing, at the same time getting to know admirable people from all over Latvia."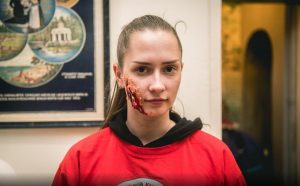 Evita Kristiāna Pušpure, LatRCY volunteer
"Before I was involved in the Latvian Red Cross, I was in a first aid club at my school. One day during summer, a teacher called me and offered me to take part in a camp in Abragciems. Not thinking much, I applied. I will say honestly – I do not regret it, not for a moment! Right now I am not able to imagine my life without LatRCY and the people that are involved there, because I feel like it is my second family. After events, the most pleasant is to hear feedback from people with words such as "I was welcomed here so nicely that I definitely want to return and get involved more and more", which proves that we are very friendly and any newcomer will be received here as a new member of the family. This is a magnificent opportunity to get to know new people and help others, or to find out about one's own possibilities in life!"

Elizabete Ieva Grīnberga, LatRC and LatRCY volunteer
"I had already heard about the Latvian Red Cross previously, but I did not know what it was and what it did. My friend invited me to the first LatRC Youth department meeting for me to understand better how LatRCY operates. I really liked that everyone I met and got to know was responsive, understanding, helpful, encouraging, and always smiling. Voluntary work provides unspeakably huge satisfaction for the accomplished. For example, at the beginning of the year, we helped some elderly lady move to another residence, and the extent to which she was happy about our help made me feel great! It is such a fantastic sense of acknowledgement that I am able to please someone. Therefore, the Latvian Red Cross is an excellent organisation with even more excellent youth volunteers!"
Elizabete on giving first aid in the XXVI Song and XVI Dance Festival
"Even previously I knew that I definitely wanted to be somehow involved in the XXVI Song and XVI Dance Festival, considering that I had recently left my dance group. The previous connection I had with medicine was not big, I had only recently completed FA training. Long duty hours did not frighten me, I knew that it would be interesting and valuable to be a volunteer in a FA position. Coming to duty we noted who has arrived, divided ourselves in the specific day's positions, took the necessary materials and went to the indicated locations. The responsibility of the first day for me was to register patients, later I could already care for smaller wounds. I really got lucky with my colleagues, open, responsive, and simply great people. They answered all of my perhaps slightly silly medicine-related questions. And, if I am honest, then waking up to the early morning duty was easier than to school. Huge thanks to the Latvian Red Cross and the first aid team for this wonderful opportunity to see the Song and Dance Festival from a different perspective."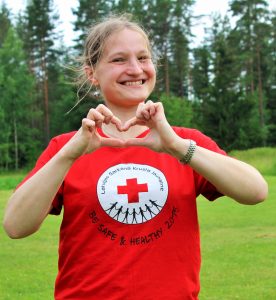 Mariona Baltkalne, LatRC and LatRCY volunteer, Chairwoman of the LatRCY Board, Board member of LatRC

"I arrived at the Latvian Red Cross Youth (LatRCY) in the spring of 2009. I had both heard about the Latvian Red Cross (LatRC) organisation quite a lot before, about actualised campaigns, and I had myself given humanitarian aid. I was interested in the possibility of getting more involved in the work of the organisation, and, due to a coincidence of circumstances, I got to the LatRCY Rīga Centre Department, in a short period of time grasping maximally everything where I could work as a volunteer. After a relatively short time, in the autumn of the same year, I became the director of the Rīga Centre Department and, in this position, until the beginning of 2013, I spent my daily life in a colourful swirl, coordinating other volunteers and generating countless activities in different LatRCY operating programmes. I have experienced so much! Both larger and smaller scale public events to address people about various group discrimination existing in society and the need for tolerance. I have acquired first aid skills and hosted educational lessons in schools about sexual health and the importance of donating blood. I have lived many afternoons with children and elderly persons in social care centres and the children's hospital, and, finally, I have with honour carried the LatRCY and LatRC name, participating in various non-governmental organisation events and representing my National Society in international Red Cross Youth camps in Austria and Germany.
Although currently I have to largely balance voluntary work with my daily occupation, I am delighted and honoured that I still have an opportunity to come help as a volunteer, both creating and realising my ideas and passing knowledge onto other volunteers, and holding different training sessions. Arriving at LatRCY, I was led by a large consciousness of a mission, and it has not diminished, I would rather say – it has broadened, because exactly work in LatRCY made me realise that help should not be constrained within an organisation, it has to enter any everyday situation. The most essential drive to work in LatRCY for me also right now is the expansion of my borders, because it seems that at no other place in my life would I have enjoyed everything I have encountered in the organisation, I would even say – these are several lived lives!"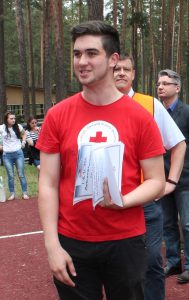 Ņikita Aleksejevs volunteer in the LatRCY Daugavpils City Committee
"I operate in the Red Cross every day, and always I have a thought "What else could I organise and who else could I help?". The LatRCY Daugavpils Department has an active youth, which is always ready to come even at night and assist. I am thankful to my team for the constant support, and we never know with what result we will end up, but all the time we are positive and directed towards success. We have a highly responsive committee president, who always supports us and recommends different ideas. Right now I am not able to imagine my life without RC, because I have a feeling that I cannot leave my LatRC family." At Riga State Gymnasium No.2, a representative of the State Employment Agency handed out the award "2016 Volunteer of the Year" to Ņikita, who is not only a volunteer and the director of the Latvian Red Cross Youth Daugavpils City Committee Department but also the vice president of the Daugavpils City Youth Council, a member of the Daugavpils City Council Youth Case Consultative Commission.
We appreciate every volunteer for the invested work, time, and responsiveness!
Together we can help!