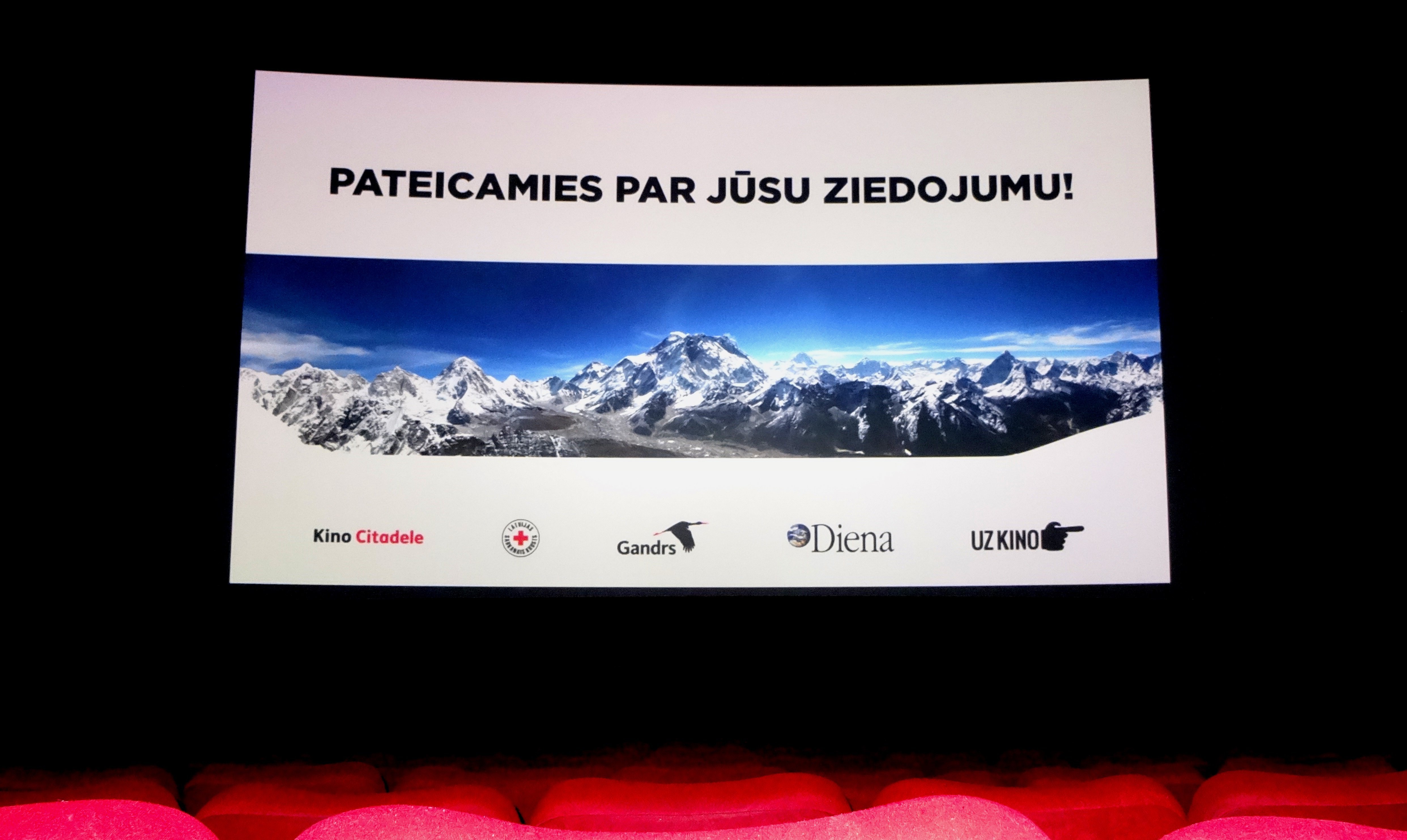 Latvian Red Cross, SIA "Forum Cinemas", cinema "Kino Citadele", newspaper "Diena", "Gandrs" and Latvian alpinists, who sheared their experience about climbing Mount Everest, are very grateful to everyone, who came to a movie "Everest" charity premiere yesterday, 16th September, and donated their money by buying a ticket in order to help Nepal, where thousands of people suffered some of the most powerful earthquakes in World's history in April and May 2015.
412 people attended the movie "Everest" premiere, which means that at this moment the amount of donation is already EUR 2133, 56. All income from the sold tickets and rest of the donations will be transferred to the International Federation of Red Cross and Red Crescent (IFRC) and will be used by Nepal Red Cross for helping people who suffered during the two earthquakes.
TOGETHER WE CAN HELP!
Everyone who did not manage to be present at the premiere but still wants to help and donate, it's possible to do it either by donating at the collection box that is located in the cinema Kino Citadele (address: 13. janvara Street 8, Riga) until 1st November while the movie "Everest" is on the screens, or by transferring the money to the LatRC bank account:
Purpose for payment: "Nepal"
Receiver: Latvijas Sarkanais Krusts
Reg. No. 40008002279
Bank: AS Swedbank
Code: HABALV22
Bank account: LV28HABA0140J04577004
The movie "Everest" is based on a true story. On May 10, 1996, climbers (Jason Clarke, Josh Brolin) from two expeditions start their final ascent toward the summit of Mount Everest, the highest point on Earth. They are challenged beyond their limits by one of the fiercest snowstorms ever encountered by mankind as the climbers will face nearly impossible obstacles as a lifelong obsession becomes a breathtaking struggle for survival. "Everest" is the latest 3D movie created by "Universal Pictures" and "Walden Media". Director: Baltasar Kormákur, casting: Jason Clarke, Josh Brolin, John Hawkes, Robin Wright, Sam Worthington, Keira Knightley, Emily Watson, Jake Gyllenhaal. The film opened the 72nd Venice International Film Festival on September 2, 2015. In Latvia the movie "Everest" will be released on 25th of September. Movie trailer: https://www.youtube.com/watch?v=SA_3HyWFDKY
For more information:
Latvian Red Cross
Agnese Trofimova, Head of International and Public Relations
Phone. : +371 67686312
e-mail: agnese.trofimova@redcross.lv
Forum Cinemas
Tel. +371 67357608
e-mail: uzkino@forumcinemas.lv