Eva Rubene, volunteer of LatRC and LatRC Youth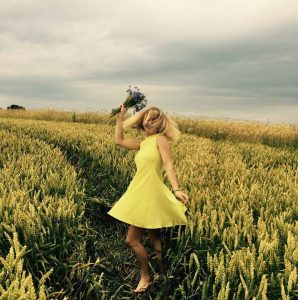 "I am Eva and I am the volunteer of the LatLRC. How did it happen? It was during secondary school, I think at Form 11, when the geography teacher who was the head of LatLRC Rēzekne Committee Youth Unit at the time informed us about the tasks and that the committee requires youngsters for help. I got involved as a volunteer several times and I liked it, as it was interesting. Now, six years have passed. For some time, I was also the Head of LatLRC Rēzekne Committee Youth Unit. What have I done? I have mainly made people happy. How can I do it? We have organised music and theatre events at old people's homes, creative workshop at kindergarten, orphanage or youth centre. Why would I suggest you to become a volunteer? Yes, you won't get paid for being a volunteer. Do you know what is our salary most often? Good feeling and joy for the results, as well as the fact that you broaden you viewpoint and improve your communication skills. Isn't it nice?"
---
Kārlis Siders, LatLRCY volunteer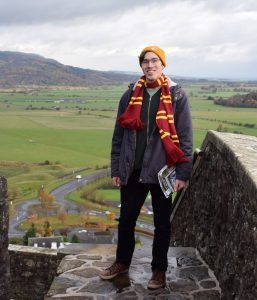 "I heard about LatLRC from a friend who was constantly praising it and told me how fun and significant it is to work there. Therefore, I decided to join them in summer and help to teach first aid to pupils in Ādaži and it was really nice. These pupils were learning hard and tried to get to know everything how to save people's lives and I was truly happy to inspire and teach them. I understood that it is really nice to share important information, at the same time getting to know people from all around Latvia."
---
Evita Kristiāna Pušpure, LatLRCY volunteer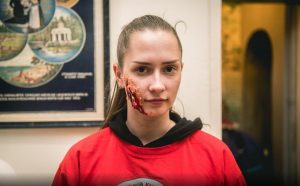 "Before I got involved in the Latvian Red Cross, I was a part of the school first aid hobby group. On a summer day a teacher called me and offered me to participate at a summer camp in Abragciems. I didn't think long and applied. To be honest, I don't regret it! Now, I cannot imagine my life without LatLRCY and people who are involved, it is my second family. The best part after events is to hear feedback from people who say: "It was so nice here that I want to return and get involved more," which proves that we are very friendly and every new-comer will be welcomed as a new member of family. This is a great chance to get to know new people and help others or get to know your own opportunities in life."
---
Elizabete Ieva Grīnberga, LatRC and LatLRCY volunteer
"I had heard of the Latvian Red Cross before, but I didn't know what it is and what it does. A friend of mine invited me to the first meeting of LatRC youth c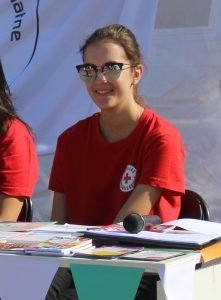 ommittee so that I would understand better how LatRC works. I liked that all the people I met and got to know were very friendly, understanding, helpful, inspiring and always smiling. Volunteering provides me great satisfaction for what I have done. For example, in the beginning of the year, we helped an old lady to move to another home and she was so happy for our help, it made me feel very good. It is very nice when you can make somebody happy. That's why the Latvian Red Cross is a great association with even greater volunteers!"
Elizabete about providing first aid during XXVI Song Festival and XVI Dance Festival
"I already knew before that I want to get somehow involved in XXVI Song Festival and XVI Dance Festival, considering that I had recently left my dance group. My previous link to medicine was not very strong I had only participated at FA training. The long hours did not scare me, I knew it would be interesting and valuable to be volunteer at FA posts. When we came to our shift, we had to register, then we divided in posts of the day, took the necessary materials and went to the indicated spots. During the first days my duty was to register patients, and later I could treat small injuries. I was really lucky with colleagues, they were open, friendly and very nice people. They answered all my questions related to medicine that were maybe stupid. And to be honest, it was easier to get up for the early shifts than it is to school. I would like to thank Latvian Red Cross and First Aid Team for this wonderful opportunity to see the Song and Dance Festival from another point of view!"
---
Mariona Baltkalne, LatRC and LatRCY volunteer, Chairwoman of the Council of LatRC Youth, LatRC Council Member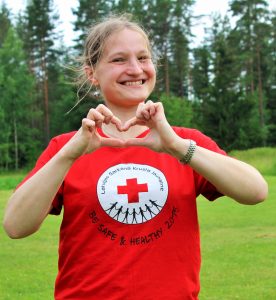 "I got to the Latvian Red Cross Youth (LatRCY) in the spring of 2009. I had heard a lot about the Latvian Red Cross before, about the campaigns they organised and I had donated humanitarian aid myself. I was interested to get involved in the work of the association as much as possible, and because of coincidence, I got to Riga Centre Unit of LatRCY and over a short period of time I learned a lot and could work as a volunteer. After a comparatively short time, in the autumn of the same year, I became the head of Riga Centre Unit and I worked at this position until the beginning of 2013, my duties included coordinating other volunteers and creating different activities for different LatRCY activity programmes. I have experienced so much! Large and small public events to address people about discrimination of different social groups and lack of tolerance. I have obtained first aid skills, and led educating activities at schools about sexual health and the significance of blood donating. I have participated at many afternoons with children and old people at social care centres and Children's Hospital and I have also represented LatRCY and LatRC at different non-governmental organisations and camps of the Red Cross Youth camps organised by the National Associations in Austria and Germany.
Although, now, I have to balance my volunteering work with everyday work, I am happy ad honoured that I still have a chance to help as a volunteer, creating and implementing my own ideas, and transferring my knowledge to other volunteers and leading different training. When I came to the LatRCY, I had the sense of mission and it has not decreased, I would even say that it has become bigger, as work for the LatRCY has made me understand that help does not have to end at the organisation, it has to be present in every situation. My main driver for working for the LatRCY is broadening my borders, because I think I would have never enjoyed so many things as I did at the organisation, I would even say – I have lived many lives!"
---
Ņikita Aleksejevs, LatLRCY volunteer, Daugavpils City Committee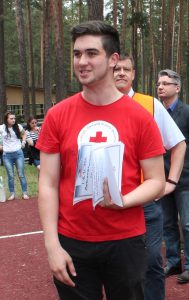 "I work for the Red Cross every day and I always think "What else could I organise and to whom else I could help?". Active youngsters, who are always ready to come and help, work at Daugavpils Unit of the LatLRCY. I am grateful to my team that they always support me and we never know the end result but we are always positive and success-oriented. We have very friendly chairwoman of the committee, she always supports us and suggests different ideas. Now, I cannot imagine my life without Red Cross, as I have the feeling that I cannot leave my family at the LatLRC." At Riga State Gymnasium No. 2, the representative of the Employment State Agency presented Ņikita an award "Volunteer of the Year. 2016". Ņikita is not only a volunteer and Head of Latvian Red Cross Youth Daugavpils City Committee, but also the Vice-president of Daugavpils City Youth Council and member of the Advisory Commission of Daugavpils City Council Youth Affairs.
---
We appreciate every volunteer for their invested work, time and availability!
Together we can help!