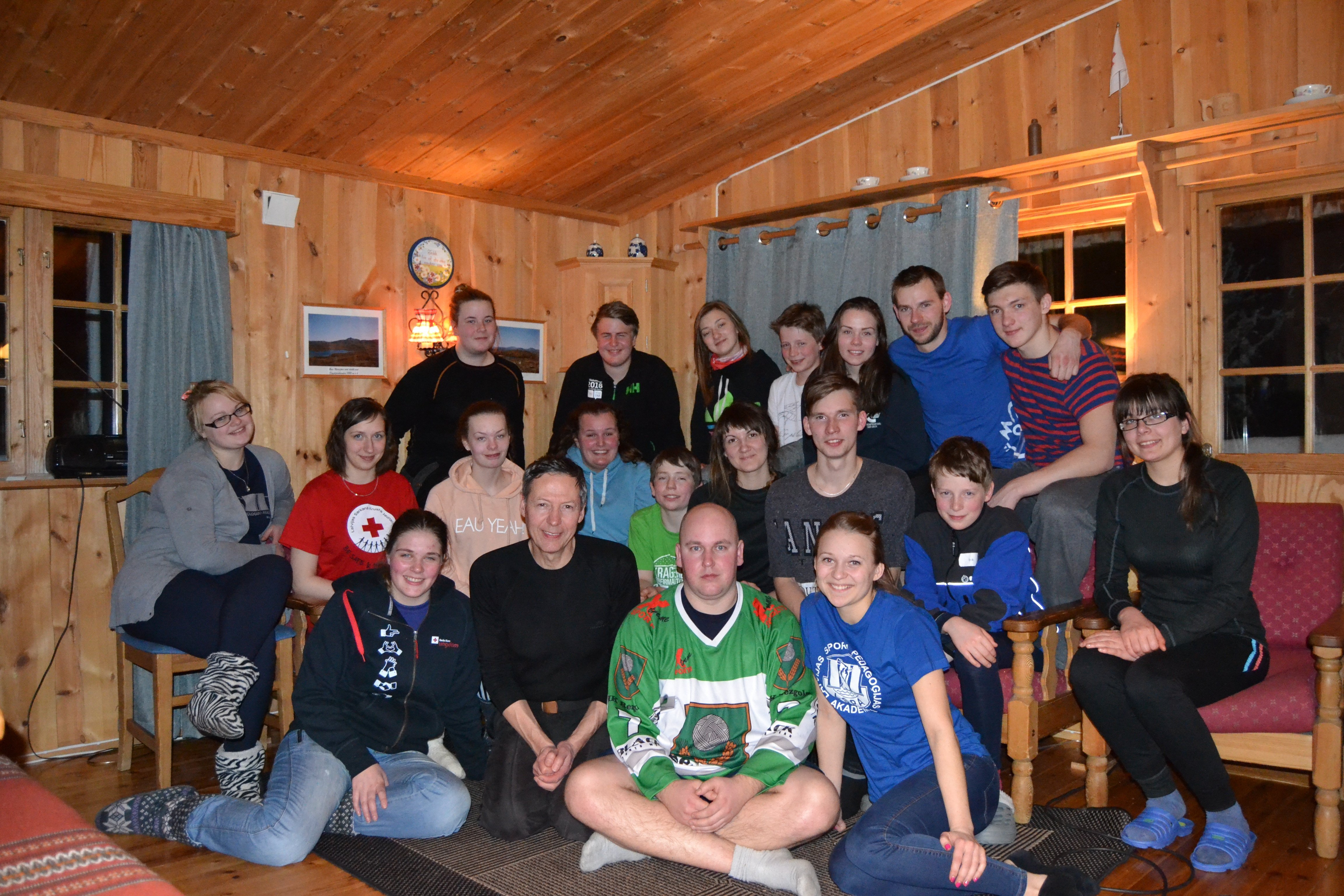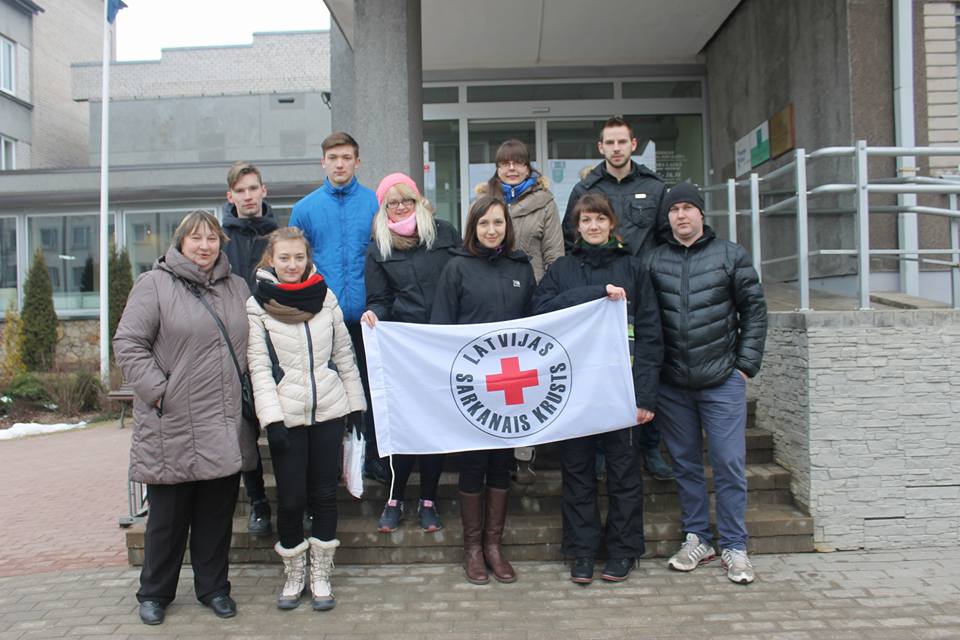 Between the 3rd and 6th of March, Rezekne LRC young people participated in 4- day winter training camp in Norway, "Winter friends -a friend with winter."  10 young people from Rezekne and Rezekne district participated on the training.  Their names are Eva Rubene, Jānis Šaudiņš Kristīne Pokule, Aivis Strankaļs Marija Kalinina, Aivars Mežatučs, Māra Gailume, Elvis Rubenis, Aleksandra Kutuzova.  Additionally, 10 Norwegian youngsters participated in the training camp. The main topics of the training at the camp were: first aid, snow avalanches / landslides, lost people, rescue work when a person is buried by the snow, appropriate winter clothes and winter transportation. Below, you can read the opinions and memories of Latvia's youth.
Tatjana:
"From 3 to 6 March, I had a great opportunity to participate in the Red Cross camp "Winter friends – a friend with winter" in Norway. It was a useful experience, during which we could enjoy another country's natural beauty, experience real winter and try to" plunge " in the snow.  We learned how to skii, how to properly dig rescue caves, how to give first aid in extreme conditions, and how to search for missing / buried people in the snow. The training took place in a warm atmosphere,with people we already knew, lot of positive emotions, and adventures.  We`ve gained experience, fellowship, new ideas and opportunities for work, which will use in future. Thank you!"
Jānis:
"First of all, I would like to sincerely thank Rezekne county social service manager Silvija Strankale and the Rezekne Red Cross Chapter for the opportunity to participate in this camp. I not only enjoyed the Norwegian winter pleasures there but also gained a very useful understanding for how to survive in outdoor environment conditions.  I learned how to survive in winter and how to help people who get into life-threatening situations. Looking back at the camp, I can now to say that I`ve learned not only the first-aid skills and the Norwegian language, but also gained very funny and energetic friends!"
Māra:
"I want to give a big thank you for the opportunity to participate in this training in Norway, and for the unique experience and knowledge I acquired there.  To be sure, the Red Cross is doing amazing and invaluable work by helping people without any remuneration. This is the trip I will remember always with a smile on my face and immense joy in my heart, because I got a new life experience, great emotions, new friends, enjoyed the joys of winter, and laughed to tears. Huge thank go to the organizers from Latvia and Norway for the nice accompaniment and warm reception. I hope that I will still have the opportunity to participate in Red Cross activities, and continue to learn and improve myself."
Aivis:
"First of all, I would like to give a big, big thank you to the Red Cross for giving me the opportunity to travel somewhere far, to gain positive emotions and education. At least I experienced what`s it like to fly, to overcome my fear of heights, to expanded my horizons for travel, and to learn about the world as a whole. I was given the opportunity to learn by doing. It was interesting to dig a snow cave and watch how each group dealt with the cave excavation task.  And it turned out that each group has its own cave making tehnique. Training for avalanches and Norwegian conditions seemed less practically useful for me, but knowledge makes people interesting, because no one will be interested in communicating with illiterate and ignorant people. We were given the theory of first aid.  Even though I had already learned first aid in Latvia when I got my driver's licence, it had its own nuances in Norway, different what we had learned before. Even if it was hard for me,  I loved the skiing and I can say that my skiing skills have improved. Learning how to search for a missing person and using a map, which I couldn't do before, seemed interesting to me. The views were spellbinding in a way thas is hardly possible to describe with words. We made a lot of pictures and got unforgettable memories of Norway.  The experiennce inspired in me a great desire travel. Thank you all for this opportunity! "
Elvis:
"I am very grateful to the Latvian Red Cross, and to the Oppland Red Cross for the opportunity and the new skills I acquired. Learning by doing is the best way to be confident.  It is also one of the best ways to help us retain information. The four day long training will stay in my memory because of  the laughter and joy, the good time, the new friends, the moments, and the language barriers. Thank you! "
Kristīne: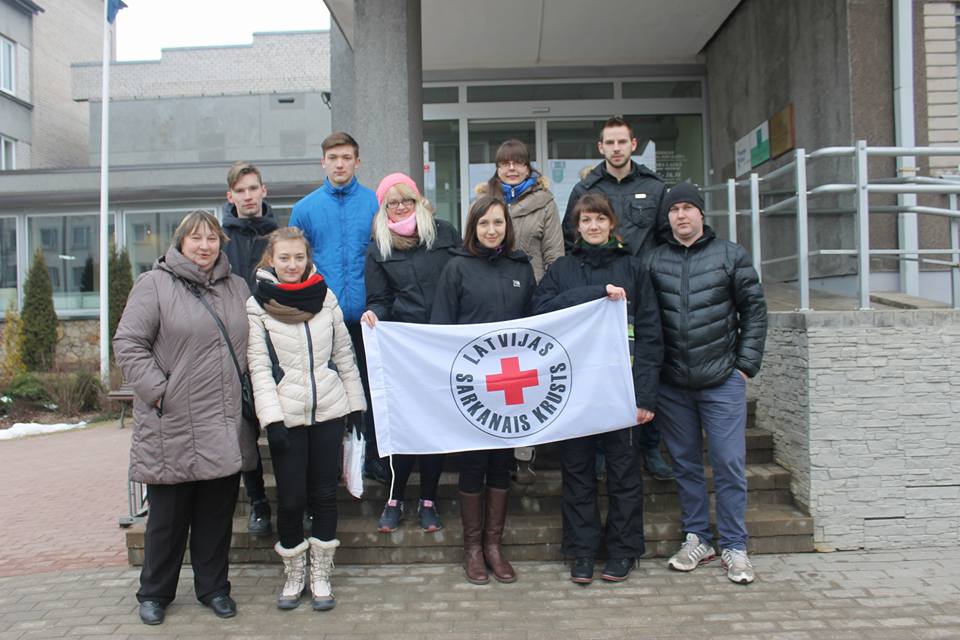 "This trip to Norway was fantastic,  My thanks to the cool and outstanding Latvian team! During the winter camp I gained experience and knowledge, and I could spend my time in a useful way. I liked the hospitable Norwegian reception and Norwegian nature at this time of the year.  In recent years, Latvia hasn't had a real winter with lots of snow.  I had expected to communicate a little more during this trip, hoping that I could communicate directly with the Norwegian youngsters. But, unfortunately, as we had difference in age and in knowledge of English, our communication was at a lower level than they had expected."
Aivars
"The Latvian team was perfect.  At the camp, there were 3 activities, which will remain in memory for a long time: 1. Snow cave formation; 2. Skiing from the hill and return back with snow moto assistance; 3. Becoming a Red Cross staff and carrying out simulations. A part of that was taught in theory through lectures, but it was still interesting to listen from different teachers. The only unfortunate part was that the communication was mostly just among us-Latvians. Thank you!"
Aleksandrs:
"The trip to Norway gave me a lot of knowledge, experience, and new friends. I enjoyed the snow-since we didn`t have any in Latvia this winter. We made snow caves, skied with cross-country skis, organized a picnic in the fresh air, and participated in theoretical classes, which we tried out in practise later. In addition, we got a little insight into the Norwegian culture. Huge thanks to the Latvian Red Cross Youth group without which this training would not have been as funny, adventurous and rich in impressions. "
Marija:
"You can never know til the end how cool, interesting and exciting World is, but if you have the opportunity, then definitely go see it.  I was offered to go to the Red Cross training in Norway, and I did not know what to expect there.  I had no idea how things would happen to me. Also, it was my the first flight ever. Now, looking back at the time spent there, it seems strange why I had been so stressed as I was surrounded by the funniest, friendliest and sweetest people in the world. I experienced so many emotions and laughed, which is unforgottable. Thank you very much LRC and Oppland Red Cross for the opportunity to take part!"
Eva: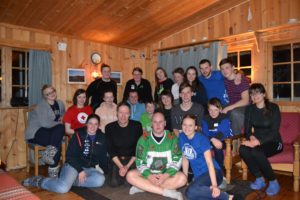 "After this camp I believe Richard Bach, who said  that learning means remembering what you have already known, doing means to show what you know, and teachinging means to remind others that they know just as well as you. We are all learners, doers and teachers.We were the Latvian Red Cross youth , we were students, doers and teachers of each others.
During the training, we supported and encouraged the others when they were afraid to ski or fly, and gained experience in topics and emergencies which aren`t up to date in Latvia.  I would like to express my admiration for the well organized, educational, and exciting training. I can never thank you enough. Also I want to thank the LRC and Oppland Red Cross for the opportunity to be able to participate in this training, for the knowledge and the fact that in such a short period of time I changed so positively.  I also want to say thank you for the sincere and loyal friends. Thanks also to for the common adventure. Thank you!"